China conch has built the world's first cement full process intelligent factory
On the afternoon of October 18, 2019 world intelligent manufacturing conference summit BBS was held in nanjing international expo and convention center. Gao dengbang, secretary of the party committee and President of conch group was invited to attend the event and held a thematic dialogue with important guests at home and abroad on the "mission vision" of industrial intelligence.
Gao dengbang thinks, traditional
cement production
mode needs to change to intellectual direction. Born more than 180 years ago, cement is the cornerstone of modernization and a great cause. Its development is closely related to everyone and irreplaceable. The traditional production organization of cement industry can no longer adapt to the current development trend of digitalization, informationization, high efficiency, green and environmental protection of the manufacturing industry.
Gao dengbang said that conch is a leading cement industry enterprises, adhere to lead the industry transformation and upgrading and high-quality development. Traditional cement industry from mining and calcined to packing shipments each link has a corresponding comprehensive utilization of resources and environmental management problems, the conch built the world's first intelligent cement production process all factories, significantly improved the labor productivity and resource comprehensive utilization, reduced emissions and staff labor intensity and environmental protection index is better than the national standard.
Gao denpeng said that the key to conch success is to stick to, keep the positive side can be innovative. Conch group adhere to the cement industry, strong foundation, through technology, management mode, industrial development and other comprehensive innovation breakthroughs, promote the enterprise reform and development.
During the conference, chairman of the board was invited to have a one-to-one dialogue with Francisco Betti, director of advanced manufacturing and production industry of BBS, to exchange views on the role and significance of advanced manufacturing "beacon" enterprises.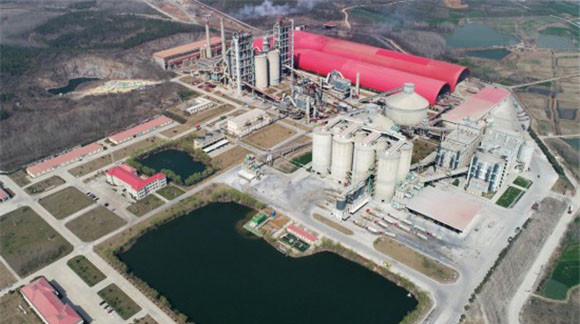 According to the ranking, "beacon" enterprises show the transformation of the world's advanced manufacturing enterprises and provide learning directions for manufacturing enterprises of all sizes and stages of development around the world. Advanced intelligent manufacturing plants should have a complete ability to organize systematic production, self-correction and continuous optimization and upgrading. Conch group further promotes the construction of intelligent factories on the basis of the world's first intelligent cement whole-process factory, and continuously optimizes and upgrades it.
Gao Dengbang said, conch, relying on advanced technology, equipment, management, and excellent talent team, for the "lighthouse" enterprise quality, to promote the innovation and development, green development, intelligent building, etc., and initially built the first set of collaborative disposal of urban living garbage from cement kiln system, the first full intelligent process plant and the first cement kiln cement carbon dioxide capture and purification project, conch is willing to continue to share development experience with the industry, leading the industry transformation and upgrading.